LJ – The Grinch
The Grinch is a lot like me. He's nasty and he's hilarious. Much like him I only care about my dog, who happens to share the same name as The Grinch's; Max. Christmas films are ripe with joy and singing and stupidly happy people who can't wait to spend the holidays with their families. The Grinch has this too, of course, except right at the top of the mountain, glaring down on everyone is Mr Grinch. Its my life in a Christmas film. The worst part, of course, is that in the end he kind of turns out nice. It really is my life in film.
Becki – The Muppet's Christmas Carol
A Christmas Carol is one of the quintessential Christmas stories, and has had many adaptations over the years. My personal favourite, and the one I make sure to watch every year, is the Muppet's Christmas Carol. With the ever brilliant Michael Caine starring as Scrooge, the film brings Dickens' tale to life with warmth and humour, and with Kermit as Bob Cratchit, Waldorf and Statler as the Marley brothers, and Gonzo as the great Dickens himself, what's not to love? It's funny, emotional, and genuinely heartwarming – anyone who says that they don't enjoy has a colder heart than Scrooge himself.
Becci – Bad Santa
I love Bad Santa so much because it is against the grain of sappy, loved up Christmas films. It is unashamedly disgusting, cheap and definitely not for children and best of all nobody learns anything or betters their life, although they try. Billy Bob Thornton is the eponymous anti-hero and is superb, if he'd been at my Woolworths when I was younger I would never have celebrated Christmas again. Funny, completely absurd and exactly the opposite of what Christmas is about. Perfect.
Nicola/ Joe – Die Hard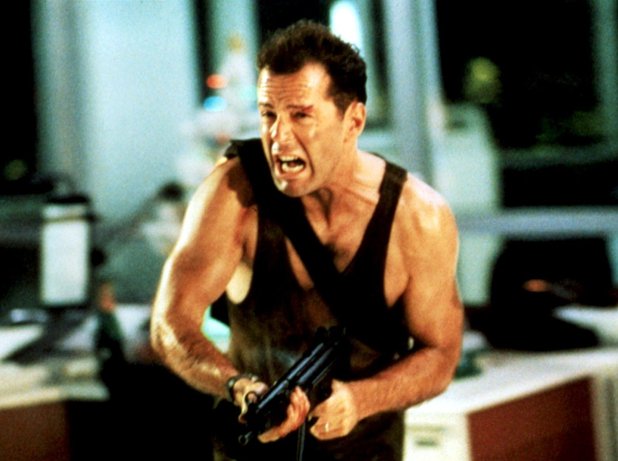 When thinking of Christmas films to watch this December, one film should spring to mind automatically. Here'sa hint: "Yippee ki yay motherf*****!"It is of course Die Hard, starring Bruce Willis as John McClane, NYPD officer, who is trapped in the Nakatomi Plaza after his wife's Christmas party is taken hostage by German terrorist Hans Gruber (Alan Rickman). Armed with nothing but wits, a shoeless McClane battles the odds to rescue his wife and save Christmas. Die Hard captures the Christmas spirit: Family, Good vs Evil, a couple of gifts (a giant teddy bear and several dead bodies); the whole she-bang, but with a lot more bang! Die Hard is THE Christmas movie. Without, Christmas just wouldn't be Christmas.
Tom – Home Alone
A runaway success on initial release, Home Alone grossed over $476 million at the box office, and is listed in the Guinness book of records as the highest grossing live action comedy of all time. Featuring classic lines such as "keep the change you filthy animal", and iconic scenes such as paint cans swinging from the banisters, the film made a star out of Macaulay Culkin, and was nominated for an Academy Award for Best Original Score.
The film's combination of comedy and festive charm has proved an enduring hit with audiences for last twenty two years, becoming a Christmas classic that will endure for generations to come.