First Minister Carwyn Jones has announced that a new bridge across the Menai Strait is to be built to the east of the Britannia Bridge. The new route will include facilities for pedestrians and cyclists.
According to Mr Jones, construction was due to begin in 2021.
Previously, the Welsh Government has said that the new crossing could open in 2021 if it got approved.
Making the announcement on Anglesey, Mr Jones said he would like the new bridge to be "equally iconic" as the Menai Bridge – built by Thomas Telford in the 1820s – and Britannia Bridge – built by Robert Stephenson and opened to carry rail traffic in 1850. Britannia Bridge was then rebuilt during the 20th Century to also carry road traffic.
Four options were put out for consultation at the end of last year for bridges east or west of the Britannia Bridge; with the 'purple route' providing the highest economic benefits and high value for money. It was also the most popular choice in the public consultation, with 25% of respondents selecting it as their first choice.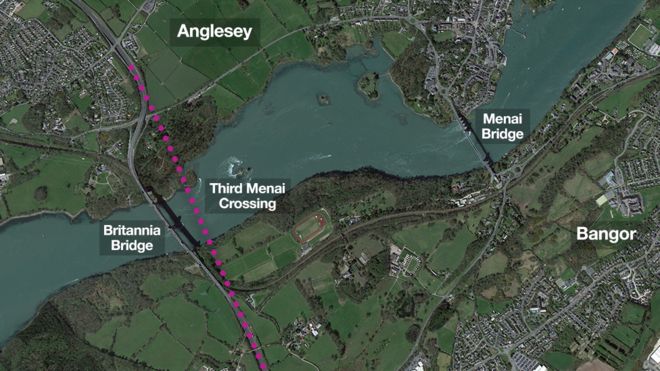 Mr Jones said: "The A55 is important locally, nationally and internationally. It provides the main economic artery for North Wales and connects the region with the rest of Wales, the UK and Europe. The Britannia Bridge is the only section of the route which is single carriageway and we know this reduction in lanes leads to congestion at peak times and during the tourist seasons."
He added: "The purples option performs best and would be vital in improving journey times, strengthening the A55's resilience, and ensuring safer travel across the Menai Strait."
A procurement exercise will now take place to appoint technical advisors to develop the preliminary design.
Ken Skates, Economy Secretary, said the 'purple route' will provide an opportunity to develop a crossing that will allow people to "seamlessly cross the Menai Strait and support future projects such as Wylfa Newydd".
The new nuclear power station will have 8,000 construction workers build it and 850 permanent employees when it starts generating in 2025. A study was announced in May that will look at whether the third crossing could also carry power cables from Wylfa Newydd. Mr Skates said: "We fully understand the sensitivity of placing a new crossing over the Menai Strait and further visualisation assessment and analysis work will now take place before the bridge type is selected and taken forward to the next stage of scheme development."
The Welsh Government said the cost of the structure was dependent on this analysis. An earlier estimate of the cost was put at £135m.